Goede middag allemaal,
vandaag heb ik 4 kaarten om te laten zien met allemaal cactussen en vetplantje hebben:
Good afternoon everyone,
today I have 4 cards to show you with cacti and succulents on them:
Cardstock: kraft, white, black, light green.
Tools: MFT dienamics "stitched circle stax, blueprints 15.
Designpaper:
Eline's peach & mint PB7042.
Eline's typewriter COL1358.
Cardstock: white, light blue, turquoise, 3 types of green, silver mirror, pink.
Tools: MFT dienamics "Blueprints 13, spring garden".
Seed pocket & garden tools CR1395.
Cactus CR1413.
Wheelbarrow & watering can LR0260.

hedera LR0469.
Cardstock: white, green, turquoise, yellow.
Tools: MFT dienamics "blueprints 13, classic window", Marianne Design "craftable cactus", Memorybox "grand flower box", flower punch.
cardstock: white, turquoise.
Stamps: Craft emotions "succulents".
Sentiment: Nellie snellen "opkikkertje". It means "Cheer up" in Dutch.
Tools: MFT dienamics "blueprints 27, stitched rectangle stax".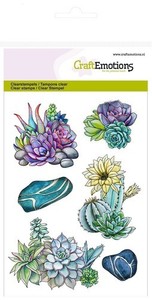 Bedankt voor de lieve reacties op mijn clay art. Er zullen in de toekomst wel meer (elven)huisjes volgen!!!
Thank you for the sweet comments on my clay art. There will be more (fairy) houses in the future to share with you!!!