Goede avond allemaal,
ik begin het jaar met een winterse (kerst) doorkijkkaart met een schudbol erop. Ik heb deze gemaakt met een tutorial op
youtube
maar je kan de beschrijving ook
hier
vinden. Ik wilde heel graag de schudbol gebruiken dus heb ik de 15 cm hoog aangehouden inplaats van 14. Het was voor mezelf wel een heel werkje omdat ik steeds maar kleine momentjes eraan kan werken en ben er een hele week mee bezig geweest maar vond het zo leuk om te doen:
I start this year with a snowglobe card. I made this after a tutorial on
youtube
but you can find a written one
here
.
Sorry, I couldn't find a English version for you all. I really wanted to use the snowglobe so I choose to make it 15 cm high instead of 14. For myself it was a lot of work because I can only craft for short little moments so it took me a whole week to finish but it was a lot of fun to do:
Cardstock: 2 tones of kraft, grey, grey pearl, white, white pearl, white glitter, 2 tones of green, bright pink, 2 tones of yellow pearl, silver mirror, brown, vellum (for the glass), light pink, black.
Designpapers: Noor Design "Winter Wonderland".
Tools: Marianne Design dies (see below), Cottage cuts "Santa Napping (table and dog).
Other, 3D Snow Effect, hempcord.
Marianne Design
Collectables:
Snow Globe COl1362.

Eline's Mouse Family COL1437.

Eline's Outfits COL1438.

Eline's Christmas Decorations COL1439.

Eline's Christmas Tree COL1459.

Eline's Sleigh COL2460.
Craftables:
Tiny's Pine Trees CR1287.

Punch Die Christmas Tree Ornaments CR1384.
Creatables:
Pine tree LR0378.

Horizon Forrest LR0444.

Forest Trees LR0556.

Driving Home For Christmas LR0567.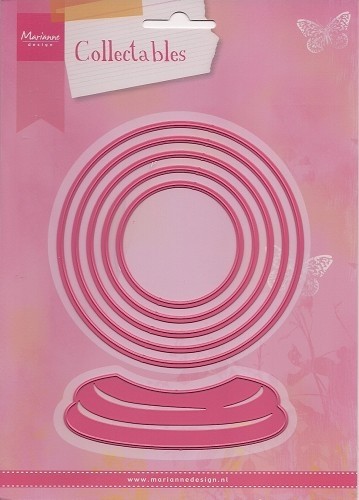 Bedankt voor alle lieve reacties!!!
Thank you for all the sweet comments!!!